Events
We'll share hearing loss event information including our upcoming round-tables, forums, and European Parliament events plus you'll get the latest hearing loss news here. Don't forget you can also receive updates direct to your inbox by using the Get Info button below.
---
Latest Hearing Loss News
October 2022
Calling for a European Strategy for Hearing Loss
Our members and chair MEP Agius Saliba have submitted questions to the European Parliament to help understand:
What initiatives will the European Commission put in place for the European citizens to actively age?
What steps will the Commission undertake to address the rising burden of untreated hearing loss in the EU?
The European Commission replied to our questions by mentioning several initiatives and projects that are currently undertaken and are slightly related to hearing loss. However, none of them mentions adult's hearing loss explicitly even though only a few of the 57.3 million Europeans living with disabling hearing loss are treated.
A European Strategy for Hearing Loss does not exist yet. We, therefore, call for a Strategy for Hearing Health.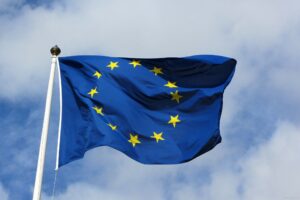 You can read the Parliamentary Response in full length.
---
July 2022
Informing Hearing Professionals About Hearing Loss with hearbetter
A new educational initiative by MED-EL has been established to increase knowledge about hearing loss among European healthcare professionals. The goal is to increase the uptake-rate of hearing devices and make sure that more people living with hearing loss are treated properly.
Hearbetter is an online platform that informs hearing experts about different kinds of hearing loss, indications, and treatment options. Besides, it provides a community area where hearing specialists can network, discuss, and exchange
their experience.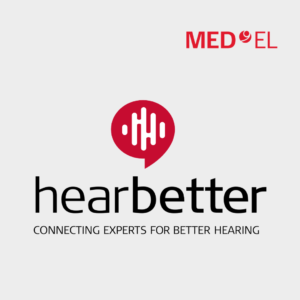 You can find more information on hearbetter and even become a community member.
---
June 2022
New HHFEU Position Papers to Raise Awareness Among Policymakers
The HHFEU has produced various position papers to further increase awareness about hearing loss, related comorbidities, the economic and societal impact, and the importance of early detection and treatment. The following papers are now available:
Economic Impact of Hearing Loss
Mental Health and Hearing Loss
Importance of Hearing Screening
Inclusive Approach to Europe's Hearing Health Challenges
Prioritising Hearing Care in Europe's Ageing Population
All position papers summarize the most important hearing health facts and provide policy recommendations. Therefore, all papers can be used by policymakers to set national policy and to prioritise ear and hearing health on the European agenda.
You can find an overview of all topic papers linking to the respective PDFs in our resource section.
---
March 2022
New Campaign on Hearing Loss and Mental Health #ListenUp
A new campaign has been launched, created by the members of the Hearing Health Forum EU, together with EUFAMI, GAMIAN Europe, EUCOMS, and EFHOH to raise awareness of the relationship between hearing loss and mental health.
Infographics on the following topics have been created:
Untreated hearing loss is a risk factor for mental ill-health;
Untreated hearing loss and mental ill-health are linked to ageing;
Alongside the WHO, participants call for immediate action to be undertaken;
Hearing loss is under-treated in the EU;
Untreated hearing loss and its comorbidities are costly to societies;
A holistic approach to care is needed to tackle hearing loss.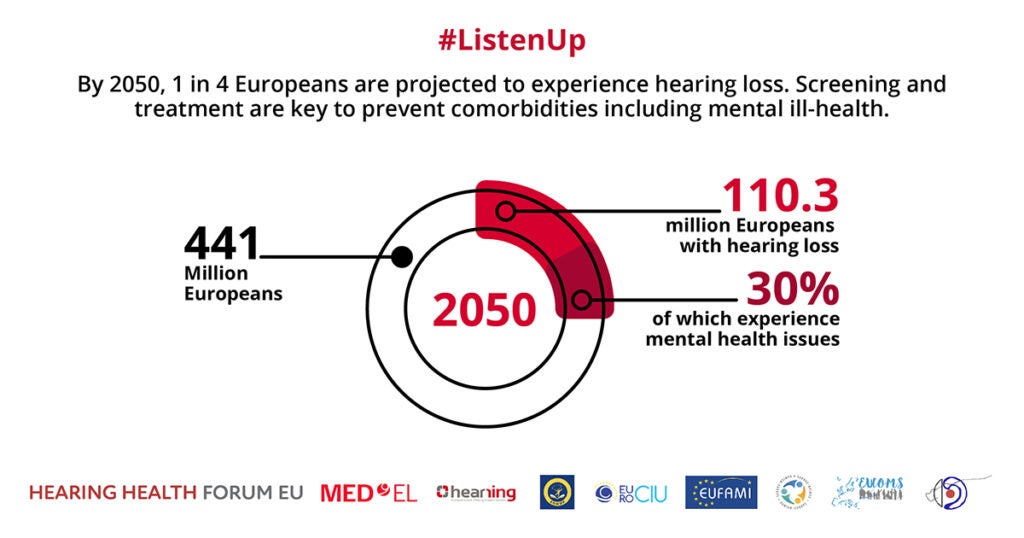 You can read more on our LinkedIn page where we've shared the campaign's latest social media cards.
You might also be interested in our HHFEU topic paper on hearing loss and mental health.
---
October 2021
Joint Statement on Inclusive Education
In 2020, MED-EL launched a series of roundtables with MEP Ádám Kósa, the first deaf European politician user of Hungarian Sign Language at the European Parliament. The aim is to build a consortium around the cost of untreated hearg loss in Europe.
The theme of the latest roundtable in June 2021 was inclusive education for the deaf, hard of hearing and Cochlear Implant users in Europe.
Studies have found that hard of hearing children are more likely to have academic difficulties in mainstream schools and have poorer academic performances. Many children are enrolled in special schools which do not always offer effective bridges to the mainstream education system. Therefore, policy recommendations on inclusive education have been established during the roundtable.
You can read more about the Joint Statement and the Policy Recommendations.
---
April 2021
Hearing Care for All - Malta Introduces Hearing Screening for Adults
Malta is taking a proactive approach to tackle untreated hearing loss. Our HHFEU president, Maltese MEP Alex Agius Saliba, is leading a revolutionary new hearing screening programme for adults across Malta. The Hearing Care for All initiative aims to identify hearing problems as early as possible, while raising awareness for hearing loss.
You can read more information about Hearing Care for All and watch videos of Agius Saliba and Patrick D'Haese talking about this project.
You might also be interested in reading more about Europe's Ageing Society.
---
April 2021
New hearing loss and cognition campaign launched
A new campaign created by the Hearing Health Forum EU members, Gamian Europe, and Alzheimer's Europe aims to raise awareness of the relationship between hearing loss and cognitive health.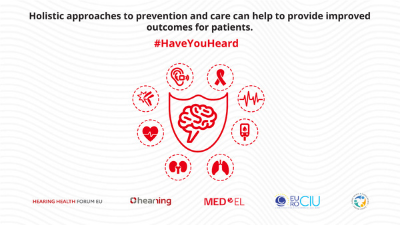 You can read more on our LinkedIn page where we've shared the campaign's latest social media cards. You might also be interested in learning more about hearing loss in adults on our website.
---
March 2021
World Report on Hearing launched
The World Report on Hearing, created by the World Health Organization, sets clear recommendations to achieve hearing and ear care as part of universal health coverage.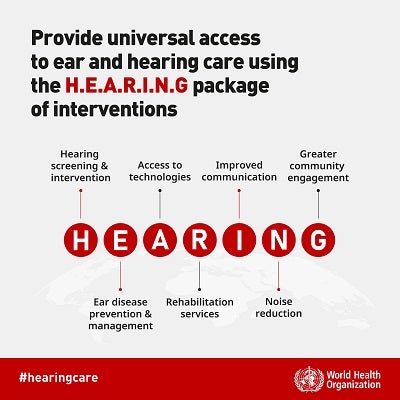 Read our synopsis of the report in our latest LinkedIn post
---
February 2021
New Statement of Intent on ageing and hearing loss
"Ageing and hearing care sectors join forces to raise awareness of the link between hearing and healthy ageing, and the importance of improving access to hearing care for older adults."

International Federation on Ageing (IFA)
The Hearing Health Forum EU support the IFA's Statement of Intent, which aims to improve access to hearing care for adults:
Increase awareness and tackle stigma
Synthesize and disseminate knowledge to change practice in the context of healthy ageing
Articulate economic advantages of hearing care and elevating hearing loss as a public health concern
Promote equity and access to hearing care
Apply evidence to guide actions
We've shared the full Statement of Intent on our LinkedIn page
---
November 2020
EU Cognitive Decline Workshop recognises hearing loss as the primary modifiable risk factor of dementia
An estimated 9.1 million people in Europe live with dementia. With this number expected to double by 2040 it poses a challenge for healthcare systems and policy makers in Brussels.
However, there are 12 modifiable risk factors of cognitive decline that can help to prevent the disease. Did you know that hearing loss is the number one modifiable risk factor? Because untreated hearing loss deprives the brain of stimulation from communication, it can increase the risk of dementia by as much as 8%.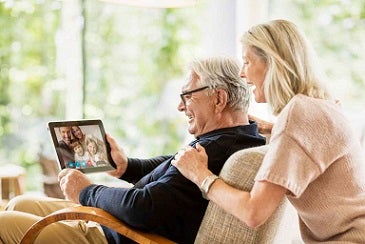 In response the Hearing Health Forum EU (HHFEU) hosted the EU Cognitive Decline Workshop with leading cognitive health organizations to shape an awareness campaign.
Read more on our LinkedIn page where we post the latest HHFEU articles
---
October 2020
First European surgery of totally implantable cochlear implant
In our bid to bring you the latest hearing loss news, we're excited to share that in September 2020, the first person in Europe received a novel totally implantable cochlear implant (TICI). Implanted by Prof. Dr. Philippe Lefebvre, it forms part of a feasibility study that could change the field of hearing implants for people with severe to profound hearing loss.
The TICI system, produced by MED-EL, places the internal and external components of a cochlear implant system in one device, which is placed underneath the skin.
"We tested the implant after surgery and are thrilled that everything is working as expected. Modern cochlear implant technology has been evolving at an impressive pace, delivering outstanding hearing results. The TICI is a milestone within the field of cochlear implantation. It has been a wish from the early days of cochlear implantation to be able to integrate all components within an internal device."

Prof. Dr. Philippe Lefebvre
Several more surgeries with the device will follow in Liège and Munich as part of the clinical feasibility study. As a result, it will take several years before it receives full market approval and becomes more widely available.
---
September 2020
Landmark consensus on the treatment of adult hearing loss with a cochlear implant
The first ever global consensus on the use of cochlear implants as the minimum standard of care for adults with bilateral severe, profound, or moderate sloping to profound hearing loss has been published. The paper, authored by an independent panel of hearing experts, includes 20 consensus statements, covering seven core themes;
Awareness of cochlear implants;
Best practice clinical pathway for diagnosis;
Best practice guidelines for surgery;
Clinical effectiveness of cochlear implants;
Factors associated with post-implantation outcomes;
The relationship between hearing loss and depression, cognition and dementia; and
Cost implications of cochlear implants.
Read the Key Points and Abstract or more about hearing loss in adults
"Initiatives like this will help us to tackle the silent burden of severe hearing loss, to prioritise hearing loss as a public health challenge and to raise awareness of the condition."

Dr. techn. DDr. med. h.c. Ingeborg Hochmair, CEO, MED-EL
---
September 2020
Cochlear implant company wins TRIGOS Award 2020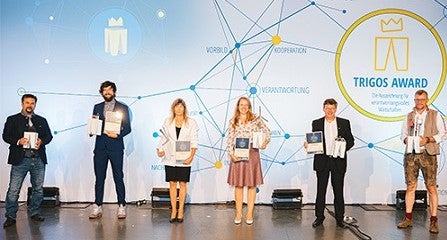 MED-EL, leading expert for hearing solutions, recently received Austria's most prestigious award for corporate social responsibility. The TRIGOS Award from the Austrian Development Agency (ADA) recognised MED-EL's healthcare project to improve hearing loss diagnosis and rehabilitation in Bangladesh and Côte d'Ivoire.